World's most awesome balloon / blimp / fish-craft!
Overview:
Air Swimmers are like blimps on "roids". These supremely large helium balloons feature remote-controlled tail fins that allow you to propel them through the air as if they're swimming in the sea. You can even raise or lower the 57-inch "balloons" mid-air via the remote.
Good & Safe Materials
Each Air Swimmer is made from ultra-durable nylon, which means it can stay aloft for weeks at a time. Its one-way valve allows for easy filling, emptying, and re-filling.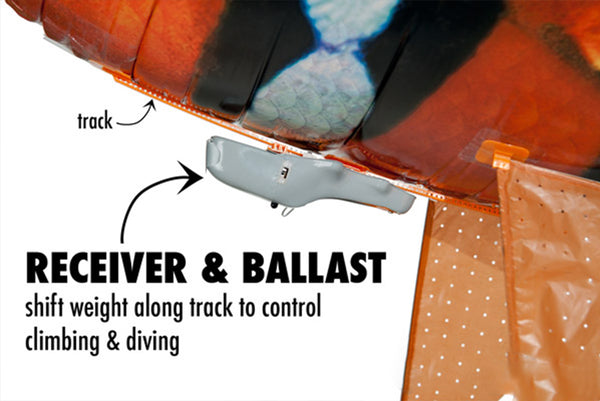 Fill, empty, & refill as often as you like
Unlike single-use balloons, however, you can easily deflate your Air Swimmer and store it for reuse. Its one-way valve means emptying and refilling the balloon is easy. You can even insert a straw into the valve and blow a few breaths into the Air Swimmer to extend the fill-up for another week or so.
Easy operation
For kids 8 and up thanks to a siFmple infra-red remote that features only two buttons (left/right and climb/dive).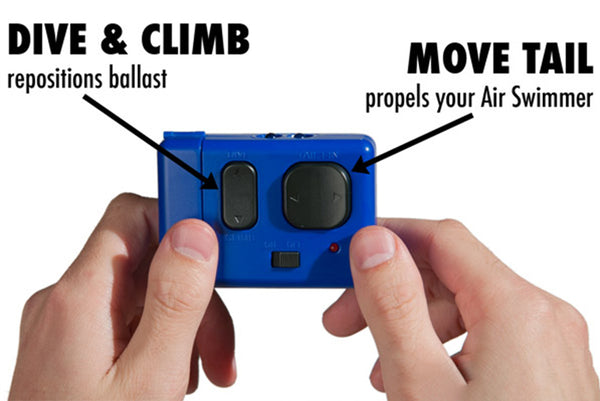 Specification:
Dimensions: 57" (with tail) x 36" (with fins) x 24" (approximate)
Infra-red controller range: 40 feet
Indoor use only
Requires

4 AAA batteries

(

not included

)
Requires helium for inflation (

not included

)
Available styles: Clownfish and Great White Shark
Suitable For: Ages 8+
Package Including: